We already saw, in an earlier post, the relation between the Stoic Philosopher Epictetus and the Roman Emperor Marcus Aurelius. Here, in this post, we turn our attention to Marcus.
Marcus Aurelius Antoninus (26 April 121 – 17 March 180) was Roman emperor from 161 to 180 and a Stoic philosopher. He was the last of the rulers known as the Five Good Emperors (a term coined some 13 centuries later by Niccolò Machiavelli), and the last emperor of the Pax Romana (27 BC to 180), an age of relative peace and stability for the Roman Empire.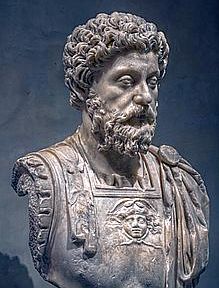 Marcus was born during the reign of Hadrian to the emperor's nephew, the praetor Marcus Annius Verus, and the heiress Domitia Calvilla. His father died when he was three, and his mother and grandfather raised Marcus. After Hadrian's adoptive son, Aelius Caesar, died in 138, the emperor adopted Marcus' uncle Antoninus Pius as his new heir. In turn, Antoninus adopted Marcus and Lucius, the son of Aelius. Hadrian died that year and Antoninus became emperor. Now heir to the throne, Marcus studied Greek and Latin under tutors such as Herodes Atticus and Marcus Cornelius Fronto. He kept in close correspondence with Fronto for many years afterward. Marcus married Antoninus' daughter Faustina in 145.
Two Emperors
After Antoninus died in 161, Marcus acceded to the throne alongside his adoptive brother, who took the name Lucius Verus. Although Marcus showed no personal affection for Hadrian (significantly, he does not thank him in the first book of his Meditations), he presumably believed it his duty to enact the man's succession plans. Thus, although the senate planned to confirm Marcus alone, he refused to take office unless Lucius received equal powers. It was the first time that Rome was ruled by two emperors.
Military Conflicts
The reign of Marcus Aurelius was marked by military conflict. In the East, the Roman Empire fought successfully with a revitalized Parthian Empire and the rebel Kingdom of Armenia. Marcus defeated the Marcomanni, Quadi, and Sarmatian Iazyges in the Marcomannic Wars; however, these and other Germanic peoples began to represent a troubling reality for the Empire.
Plague
The Antonine Plague broke out in 165 or 166 and devastated the population of the Roman Empire, causing the deaths of five million people. Lucius Verus may have died from the plague in 169.
Unlike some of his predecessors, Marcus chose not to adopt an heir. His children included Lucilla, who married Lucius, and Commodus, whose succession after Marcus has been a subject of debate among both contemporary and modern historians. The Column and Equestrian Statue of Marcus Aurelius still stand in Rome, where they were erected in celebration of his military victories.
Meditations
The Meditations ('things to one's self'), the writings of "the philosopher" – as contemporary biographers called Marcus, are a significant source of the modern understanding of ancient Stoic philosophy. They have been praised by fellow writers, philosophers, monarchs, and politicians centuries after his death.
Marcus Aurelius wrote the 12 books of the Meditations in Koine Greek as a source for his own guidance and self-improvement. It is possible that large portions of the work were written at Sirmium, where he spent much time planning military campaigns from 170 to 180. Some of it was written while he was positioned at Aquincum on campaign in Pannonia, because internal notes tell us that the first book was written when he was campaigning against the Quadi on the river Granova (modern-day Hron) and the second book was written at Carnuntum.
It is unlikely that Marcus Aurelius ever intended the writings to be published. The work has no official title, so "Meditations" is one of several titles commonly assigned to the collection. These writings take the form of quotations varying in length from one sentence to long paragraphs.
Meditations' central theme
A central theme to Meditations is the importance of analyzing one's judgment of self and others and developing a cosmic perspective:
"You have the power to strip away many superfluous troubles located wholly in your judgment, and to possess a large room for yourself embracing in thought the whole cosmos, to consider everlasting time, to think of the rapid change in the parts of each thing, of how short it is from birth until dissolution, and how the void before birth and that after dissolution are equally infinite."
Aurelius advocates finding one's place in the universe and sees that everything came from nature, and so everything shall return to it in due time. Another strong theme is of maintaining focus and to be without distraction all the while maintaining strong ethical principles such as "Being a good man."
His Stoic ideas often involve avoiding indulgence in sensory affections, a skill which will free a man from the pains and pleasures of the material world. He claims that the only way a man can be harmed by others is to allow his reaction to overpower him.
First mention
The first direct mention of the work comes from Arethas of Caesarea (c. 860–935), a bishop who was a great collector of manuscripts. Somewhere around 907 he sent a volume of the Meditations to Demetrius, Archbishop of Heracleia, with a letter saying: "I have had for some time an old copy of the Emperor Marcus' most profitable book, so old indeed that it is altogether falling to pieces.… This I have had copied and am able to hand down to posterity in its new dress."
The present day text is based almost entirely upon two manuscripts. One is the Codex Palatinus, also known as the Codex Toxitanus, first published in 1558/9 but now lost. The other manuscript is the Codex Vaticanus 1950 in the Vatican Library.
Reception
Marcus Aurelius has been lauded for his capacity "to write down what was in his heart just as it was, not obscured by any consciousness of the presence of listeners or any striving after effect."
Gilbert Murray (an outstanding scholar of the language and culture of Ancient Greece) writes: "People fail to understand Marcus, not because of his lack of self-expression, but because it is hard for most men to breathe at that intense height of spiritual life, or, at least, to breathe soberly."